Best in Class. 5 Year Full Warranty!
Free Returns and Free Shipping
$129.99
You save $40
Shop now
Veg Footprint: 3'x3′
Flower Footprint: 2'x2′
Weight: 7lbs
Watts: 100W
4mm Heat Sink (runs cooler than competitors 2.5mm boards)
Daisy Chain-able
Dimmable
Veg Footprint: 3'x4′
Flower Footprint: 2'x4′
Weight: 11 lbs
Watts: 200W
4mm Heat Sink (runs cooler than competitors 2.5mm boards)
Daisy Chain-able
Dimmable
Veg Footprint: 5'x5′
Flower Footprint: 4'x4′
Weight: 17.5 lbs
Watts: 400W
4mm Heat Sink (runs cooler than competitors 2.5mm boards)
Daisy Chain-able
Dimmable
Great light
It's a beast of a light .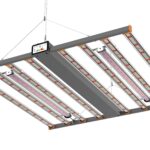 Awesome light, great price
I now have 3 of these lights. Sonofarm is an outstanding company, great service and great quality.
Great light better customer service
After growing with the light that I bought from sonofarm for a year I have been absolutely satisfied. But when the master control on my light had an issue I found out that sonofarm has the best customer service team that I have ever had the pleasure of dealing with. Thank you sonofarm for being so great. I will never use any other lighting company. You definitely have a customer for life.
Sonofarm vs Spider Farmer, it's not even a contest
I bought my first Sonofarm SF4000 light last summer. Amazing light, fantastic quality. So much so, I just bought two more. But why Sonofarm instead of Spider Farmer? Let's first start with the company.
Sonofarm is U.S. based, which is great for stateside customers. 24/7 support. Very responsive by email and Facebook Messenger. Fast, free, reliable shipping. Ordered on a Monday, received on a Wednesday. Even though I'm only a few states away, it still got to me crazy fast even though I only checked free 7-day shipping.
As for the light comparison between Sonofarm's SF4000 and Spider Farmer's SF4000, it's really no contest. They both use the exact same Samsung Diodes (LM301B) and the same Meanwell Drivers. They both show efficiency at 2.7 umol/J. The biggest differences are a thicker, sturdier heat sync (which is what holds the entire panel together) and the PPFD light intensity. PPFD might be the most important aspect when comparing grow lights. Sonofarm at 12"/18"/22" above canopy, at center of light, 2727/1714/1317. Spider Farmer for the same distances, 1880, 1314, 1065. if giving your plants more light intensity means something to you (and it should), then Sonofarm gives way more bang for the buck.
Lastly, the cost. Sonofarm is always less expensive than Spider Farmer, anywhere from $80-$100 less. Did I mention that Sonofarm has a 5-year warranty compared with 2 years for Spider Farmer? The choice cannot be more clear. Sonofarm is the best, and the big winner is you if you choose their lights.
grow lights
i needed another grow light and researched them all and found that the sonofarm was the best quality and price. this sf 4000 is very bright and well built, pretty too.i already have a mars hydro but this light is better quality and less money so you cannot beat sonofarm if you need a really good growlight and shipping was very fast , recieved it the third day after ordering/i am well pleased with sonofarm,and they are americans with great customer service,unlike the chinese people. thank you sonofarm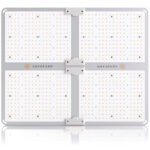 sonofarm pro - farmer series sf4000
Have bought 4 lights from them and are planning on buying more they just look good in my gorilla tents and out preform any other light I have had in the past. They are Made in American. Had the lights in 2 days from SC to MO each time I have bought lights This company is on point with everything. Thxs SonoFarms for a outstanding product.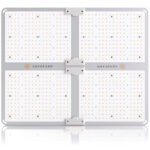 Great light at an affordable price point!
I did weeks of research before purchasing this light. I compared this light to lights like the gavita 650w. This light out performs the competition on many aspects and is built extremely well. I definitely will be ordering more lights from you guys! It has Samsung lm301b diodes which is a nice and efficient diode. The power draw is about 645watts from the wall. The operating temperature is reasonable for the light and also you can remove the driver and mount it outside of your grow space. Thank you for making a quality affordable product for the indoor agricultural community! I would definitely recommend this light if you a grower on a budget or even if you can spend as much as you want.
Great products
I currently own 3 sonofarm lights and they all kill the game but this new ultra X is no joke my inner node stacking is so nice and tight. Can't wait to review again and share my end result.
Pro SF 4000
Hands down I would recommend sonofarms grow lights to anyone trying to get big dense buds. This light is everything and more that they advertised, the par charts are exactly right and this light has slick look to it.. I'm getting a great 5x5 coverage on my flowers. And I received the light 2 days earlier than I was supposed to get it, the light was well boxed and a great pamphlet inside giving you high charts, recommended power usage , and a great overview of the company. You can't beat a 5-year warranty on a grow light. To me I got a great light and great peace of mind. Not to mention this is an American made light and the money will stay in our country. After the light has been running for a week I am further convinced that the discussion to go with Sonofarms Pro SF4000 was 100% the right choice. Thanks Sonofarm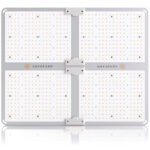 sonofarm pro - farmer series sf4000
High. New grower here and still learning .I Bought this light for one of my 4x4 tents to replace cheap light that came with the tent . It was the right move I went from small popcorn buds on a grow that was already in flower and they went to colas real quick(10 days) yield was way more than my first run with the other light. Ordered with the 7day free shipping and received it in 2 days. I am 100 % satisfied with their light. I just bought my second one for my other 4x4 tent and will be looking for another light for my 2x4x5 tent in the near future. Thxs SONOFarms for a great product...
I've been posting a lot of videos on Facebook and people love it
This light is just what I wanted to fill my 5x5 the spectrum is incredible! I post quite a few videos a week with my plants and there progress and people ask me what is that and I tell them it's the sonic farm alpha 6 and I tell them to look into buying your lights I will grow with you guys from here on out !!
Pro Series, quantum boards
I been using these lites about a year,and not only do I love there lite but also there customer service is top notch ,all my plants are healthy and happy. But I will say LEDs are alot different than hps.
Absolutely amazing light!
My wife and I bought the sf4000 for our first indoor grow to extend our vegetable growing season. We got the light last wednesday, today is the 5th day and there is a huge difference already! We are growing Kajari melons in a 4x4 tent. If you are wanting a high quality light from a great brand, then look no further. I spent hours reading reviews and contacting growers who posted reviews using the "other" brands. I can tell you one thing, the owner of this company does not have to bribe me with promises of huge discounts or being sponsored with free lights for a great review. The product speaks for itself! In fact, we plan on buying another sf4000 soon to grow lettuce/herbs in a different 4x4 tent.
Oh, I almost forgot, an American small business with an 5 year warranty to top it all off!
Very well made light
This is an extremely well made light and very heavy. Awesome light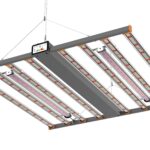 Amazing light!!
I got this light on sale for $300 and decided I had to have it to replace three cheap 100w LED units. This thing provides much better light coverage than multiple smaller lights on top of being better quality diodes. I run the same strain and this run is my first flowering with this light and my plants look absolutely amazing and the nugs are much bigger already compared to where they were this time with the last lights. Their listed PAR maps match my readings as well, so they aren't exaggerating their performance.
If you're ready to pull over a pound a run with minimal wattage, this is the light for you.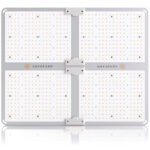 SonoFarm Guarantee
Free Shipping
We offer free shipping anywhere in the continental U.S.
Fast Processing
Order by 2pm EST. Order will ship the same day!
Free Returns
Not satisfied? Simply return it for a full refund.
Shop now
All shipments will go out December 15th